This was my 2nd time traveling to Costa Rica and this trip was one I will never forget. The first time I visited I stayed at Vista Celestial with a few girl friends and I had such an amazing time! (You can read about that trip here.) I knew one day a would have to bring someone special back here with me because this hotel is absolutely perfect for a little romantic getaway. So, when we (my amazing boyfriend Kevin and I) were looking at a first trip together I thought of Vista Celestial.
LOCATION:
Vista Celestial is located above Uvita, Costa Rica on the mountainside 2000 feet above Costa Ballena. To get here you can fly into San Jose Airport and either rent a car or take a shuttle service to the hotel. It is about a 3 hour drive that is filled with gorgeous scenery. Make sure you stop a few times along the way for some refreshing coconuts and to see the Crocodile Bridge, where you can see dozens of fully grown crocs from a safe distance!
**Car Rental Tips:
Make sure you rent a 4x4! This is crucial to get up the mountain to the resort. We overlooked this and had to turn in our car to get a 4x4 for the rest of the trip.
It is known that renting a car in Costa Rica can be a difficult experience. Some places will tell you a super low price and then nickle and dime you until your "super cheap deal" ends up costing you hundreds of dollars extra. So make sure you go with a trusted car rental service. We went with Enterprise and they were the best. We got a great deal and they had exceptionally great customer service and helped us exchange our car for a 4x4.
Property overview
Accommodations: This boutique hotel has 5 Private Villas with panoramic ocean views. I woke up to beautiful sunrises with the sounds of nearby monkeys every morning. You even have a perfect view of the famous Whales Tail. The rooms have a gorgeous bathroom with huge tub, AC, private outdoor hot tub, and even a kitchenette.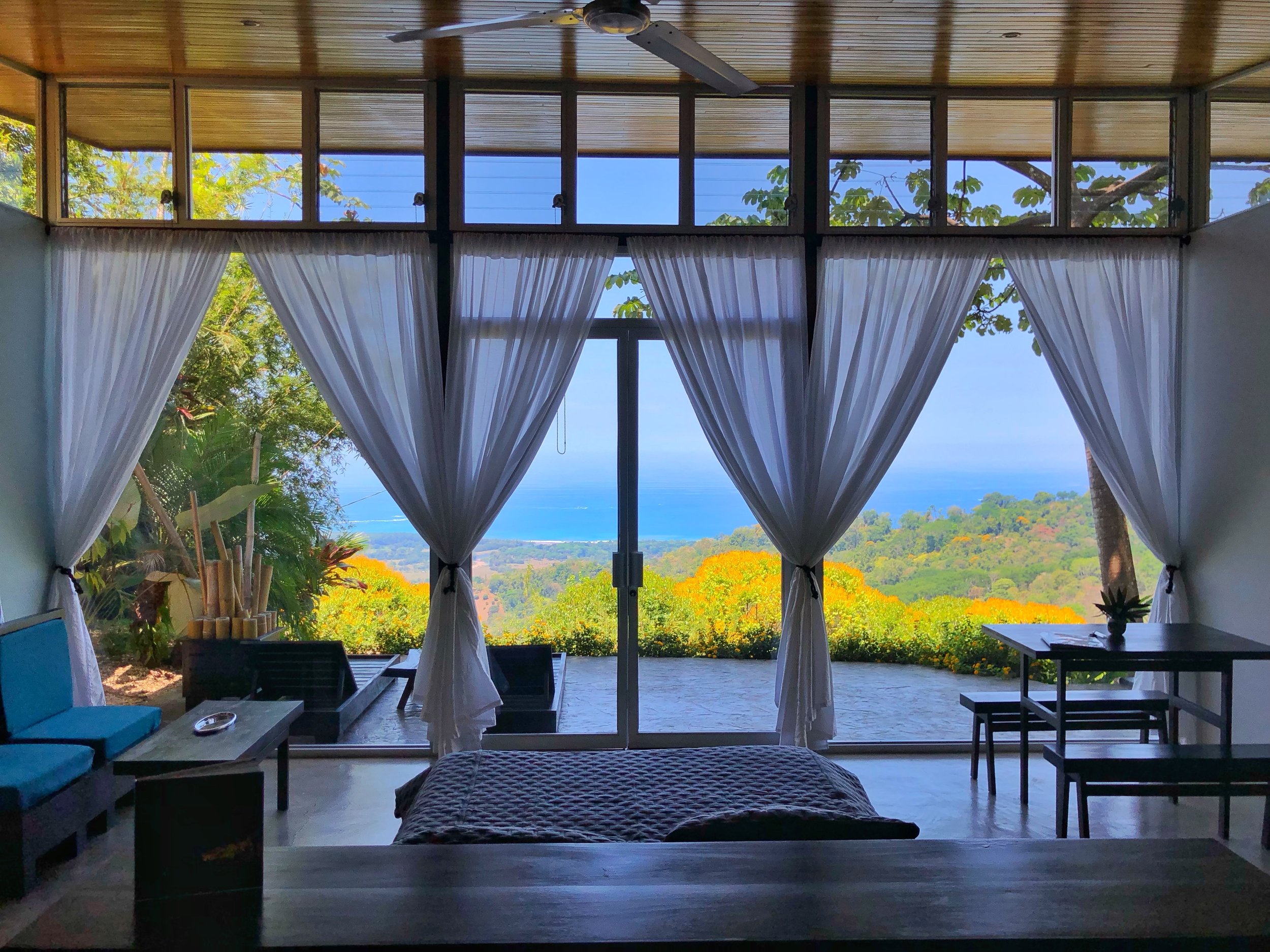 Property: The property has so many beautiful trails, hikes, and views. There is even a short hike to a beautiful waterfall that we had all to ourselves. My favorite part of the resort is the beautiful yoga platform. I told the staff that I wanted to do yoga in the morning and they had the platform all set up with mats, blocks, incense, and fresh fruit infused water (which was so sweet of them). In the common area there is a beautiful infinity pool with a swim up bar, and a hot tub. They also have the cutest reading nook with a hammock and games. If you are interested in spa services they offer facials and massages.
(Click photo to enlarge)
Food: The food at Vista Celestial is INCREDIBLE. My mouth is watering just thinking about it! They have the best plantains and guacamole I have ever had in my life. I literally ordered it every day! They also have their own garden, which makes every meal taste even more fresh. I love that the chef is so vegan friendly. They easily made any meal vegan….even the desserts!
Staff: The staff at Vista Celestial is what makes this hotel even more unique. They are so friendly and go above and beyond to make sure you are happy. They will help schedule tours, teach you about the culture, and take the time to really engage. At the end of the trip I felt like I was leaving a 2nd home filled with new friends.




Things to do

Waterfalls: Besides the waterfall on the property, there are a bunch of other awesome waterfall hikes close to the resort. I went to the Nauyaca Waterfalls last time which was so stunning (about 40 minute drive). This time I went to the Uvita Waterfall which is only a few minutes away from the hotel. This waterfall was so awesome because you can literally slide down it and the water was a beautiful blue. However, it was super crowded because we went in the middle of the day. Next time I would definitely wake up early and go at sunrise to avoid the crowd.

Surfing: (Playa Colonia) This beach is where we surfed 2 days in a row. The waves here are perfect for beginner to intermediate surfers depending on the day. We got lucky with 3-5 foot waves that were soft and easy to ride. We rented boards which were only $15 for 24 hours each. They even offered roof straps for us to borrow and gave us some wax to use. We had so much fun that we decided to keep the boards overnight and surf the next day too. After our last surf sesh we bought some coconuts and saw some Howler Monkeys on the way out.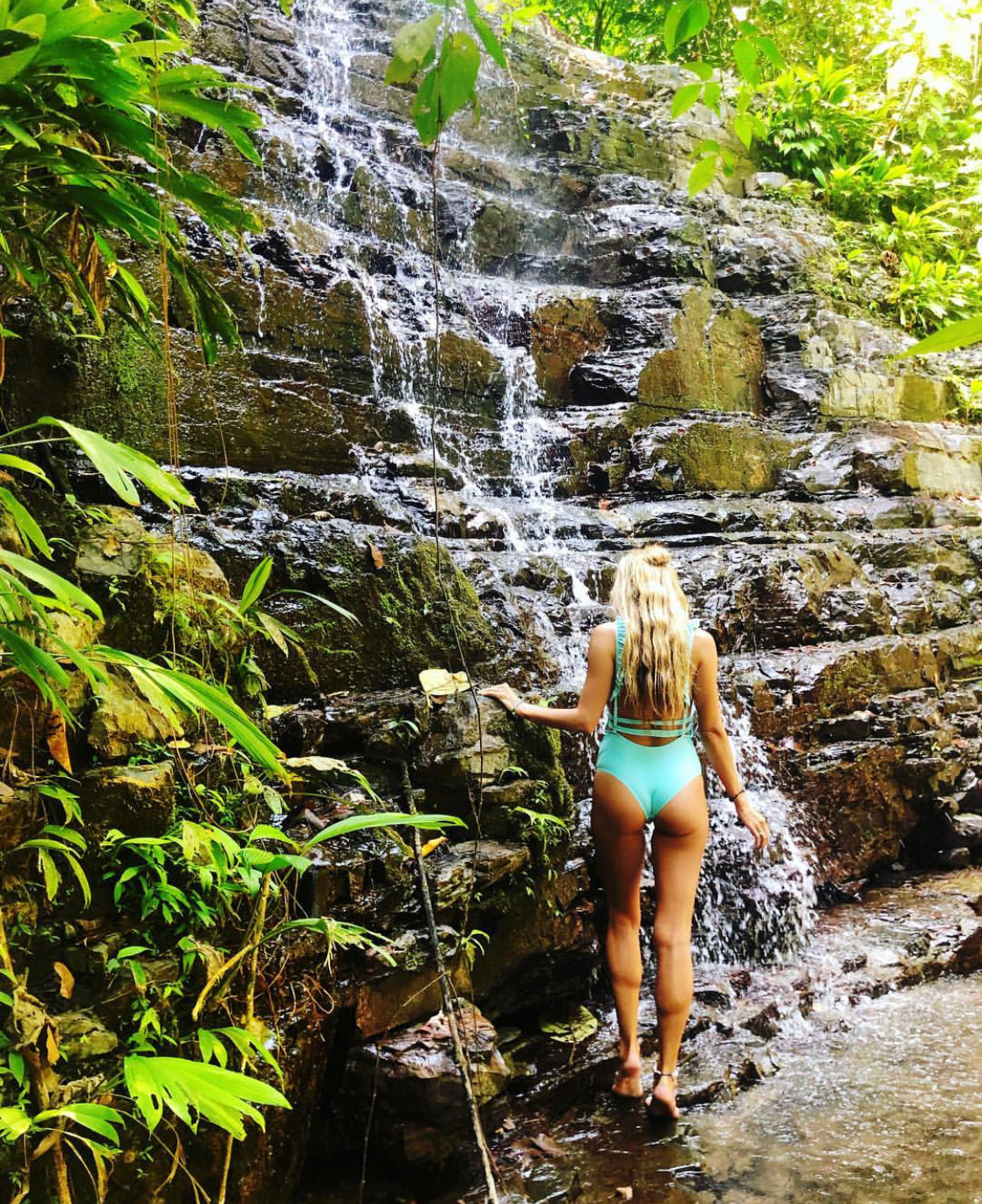 Horseback Riding: We did a horseback riding tour at sunset on the beach. It cost $50 per person. Our group was pretty large with about 20 people. We happened to be there on a holiday weekend so it was more crowded. The best part of this tour was that they let the more experienced riders run the horses, which was so much fun! However, I learned the hard way to not wear shorts while riding a horse. I wore shorts because it was hot and humid, and I've worn shorts on a horse before and never had a problem. But, this time my inner thighs got rubbed so raw that I have huge painful cuts on my legs for weeks after! Never again will I wear shorts on a horse!
Tours: Scuba Diving, Kayaking, Zip Lining, Snorkeling, ATV, Bamboo Forest and more.
TIPS FOR COSTA RICA:
Bug spray…. and lots of it. There aren't too many mosquitoes at the resort because of the elevation, but if you head down the mountain or hike you will get bit!

Bring benadryl and a benadryl topical stick for when the bugs bite you anyways.

Weather- December to April is the dry season. April can be tricky. I few years ago I came in April and it rained most of the time. This year the report said it was supposed to rain the entire time and it was mostly sunny!
I absolutely loved my time in Costa Rica at Vista Celestial and I cannot wait to go back. :) This luxury boutique hotel left me feeling so blissful and it will always have a piece of my heart.
To book your stay Click Here.
If you have any questions, ask away in the comments below.